Chris Proctor's Instructional Guitar Products:
Contemporary Guitar Fingerstyle Workshop
Chris's 6-string instructional DVD has been a consistent bestseller for Homespun since its release. It provides a comprehensive introduction to fingerstyle guitar, and lays the solid foundation that all fingerstylists need as they learn the right and left-hand skills necessary to become a one-person band, complete with melody, bass, and inner voice accompaniment. You can view an excerpt and buy the DVD at the Homespun website. (You can also find it at Chris's product page at Amazon.com):
"For the first time, key concepts of Chris Proctor's powerful and influential guitar workshops have been made available for home study. Using examples from a wide range of styles, Chris' method will add finesse, strength and fluidity to your playing.
You'll learn spectacular solo pieces while developing invaluable insights into devices such as the partial capo, the E-bow, Alaska Picks and alternate tunings. Chris teaches you to use your fingers independently using a thumb and three-finger style. Through scales, exercises and complete instrumentals, you'll develop the ability to play melodies, tastefully inserting rolls, arpeggiated notes, special voicings, triplets and other variations to expand your sound palette. Instrument set-up and common sound problems faced by acoustic performers are discussed, and solutions are offered.
You'll put all this into practice with arrangements to the Civil War song, Aura Lee (the tune to Elvis' hit Love Me Tender), Huckleberry Hornpipe (in open G) and two complex Proctor originals, Tiptoes (in dropped-D tuning) and Interstate.
This video will help guitarists of all levels with inspiration, constructive practice routines and a whole spectrum of new ideas."
Techniques for Contemporary 12-string guitar
The 12-string guitar is an undiscovered and unexplored country for too many fingerstylists who focus exclusively on 6-string repertoire and technique. Chris has redressed that imbalance with an innovative DVD that chronicles his amazing 12-string style, and brings the player who may not be familiar with this fantastic, oft-ignored instrument a basket of new ideas, techniques, tonal colors and songs to try. You can watch a video excerpt and buy the DVD from the Homespun website. (You can also find it at Chris's product page at Amazon.com):
"This DVD lesson provides new insights into the sonic possibilities and boundless opportunities for innovation on the 12-string guitar. Chris Proctor tackles a wide range of ideas and techniques, taking this richly-toned instrument into new and undiscovered territory.
This course is jam-packed with invaluable information, including important tips on tuning, stringing and setting up the 12-string for maximum output and intonation. You'll learn the open G and C tunings pioneered and widely used by Leo Kottke and other leading 12-string stylists, and the way Chris tunes down a step to get more resonance and depth from his instrument.
Most 12-string players strike the octave and unison pairs of strings simultaneously. Chris shows you a revolutionary way of picking the twelve strings individually, using alternate thumb and finger picking within the pairs of strings. Fiddle tunes such as "Sailor's Hornpipe" and "Fisher's Hornpipe" can be played with flowing melodies and resonant, ringing tones using a minimum of left-hand movement.
Chris covers many other important skills, including use of the bottleneck slide, fingerpicks, string mute, harmonics (especially lush on the 12-string guitar), and other techniques that will help you to play powerful and evocative instrumentals. You'll learn, in detail, "Halfway," "Bells of the Harbor," "War Games" and "Over the Pass." The session ends with Chris' beautiful performance of his arrangement of "Merrily Kiss the Quaker's Wife."
Morning Thunder– The Guitar Artistry of Chris Proctor
Chris Proctor's live concert magic has now finally captured on DVD. Morning Thunder is the latest release in Stefan Grossman's Guitar Workshop Guitar Artistry DVD series. Fifteen of Chris's most popular solo pieces have been captured on film and paired with 15 interview segments in which Chris talks about his music and its development, his approach to composition and arranging, his unorthodox techniques and gear, and his favorite 6 and 12-string guitars. It's fantastic concert footage and a unique look at the mind, the technique and the equipment behind his sparkling solo career.
Wood and Steel, in its Spring 2011 issue, says this about Chris's new video: "Proctor has always been an intrepid guitar explorer, and his expansive approach to guitar composition and playing is likely to leave your head percolating with fresh ideas to apply to your own fretboard excursions… any guitar lover is bound to come away inspired to dig deeper into their own personal musical inspirations and use them to create something fresh. If only we all had Proctor's spidery reach on the fretboard."
Minor 7th, the online magazine for the world of instrumental guitar, has this to say in its July/August edition: "Any consideration of the giants of fingerstyle guitar has to include Chris Proctor. He"s been widely known since the early 1980s, when he won the Winfield fingerstyle championship and released his first album, "Runoff." That record revealed Proctor's musical debt to Leo Kottke, but also introduced listeners to a lighter touch and compositional interests that set Proctor apart from any narrow set of influences. Since then, he's toured widely, released many albums and instructional videos, and worked as a clinician for Taylor guitars. He begins with "Tap Room," which, true to its title, incorporates tapping, but also a well-crafted melody and harmonics, played over chords that recall "Hit the Road, Jack." "Hot Spot" and "Ladybug Stomp" are jazzy pieces that integrate bass and treble lines in an effective call-and-response fashion. Proctor uses an EBow in several pieces, as in "Ozymandias," a lyrical piece that's one of the best originals in the set. On the moody "Interstate," he uses the EBow to best effect, skillfully crossing several strings while using it. Non-originals include the Moody Blues classic, "Nights in White Satin," two Carolan pieces (performed as a medley titled "Bach to Ireland"), Leo Kottke's "Revisiting the Sailor's Grave," John Fahey's "The Last Steam Engine Train," and two Scots jigs, learned from the group Silly Wizard.. Throughout, Proctor's guitars are amplified, a departure from the performances on many other Guitar Artistry DVDs. In interview segments, the guitarist discusses his musical growth, use of alternate tunings, and his Taylor signature guitar. This DVD presents a good overview of Proctor's originals as well as highlighting his interpretive powers."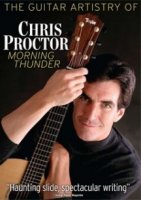 Excerpt: Interview and performance of "Gecko Drive"from his new Guitar Artistry DVD
Buy Chris's new DVD at Stefan Grossman's Vestapol website.
Chris Proctor- Guitar Collection
With accurate transcriptions of 12 of the 16 stunning original pieces from his recording, "The Chris Proctor Collection," This Warner/Alfred release also comes with a 72 minute master class CD in which Chris helps steer the player through the difficult sections, points out where unsual techniques come into play, and generally coaches the user completely through the learning process. This is the repertoire that has helped make Chris's reputation as one of the world's leading innovators of solo steel-string guitar, and this is the book that will help take you there.
Here's an excerpt from the Alfred Publishing website, where you can purchase this combination book/masterclass CD. (It's also available at Chris's product page at Amazon.com):
"From Warner/Alfred Publications comes Chris's book/masterclass CD, which includes twelve of Chris Proctor's stunning solo guitar pieces, fully transcribed in tab and notation. Plus, Chris walks you through each arrangement on the included masterclass CD. Songs include: The Bells of the Harbor, The Emperor's Choice, Henry's Shuffle, Hotspot, Late Again, Morning Thunder, Mountaineer Creek, Over the Pass, Seven-Oh-Four, Stormwatch, Tap Room, and War Games."