Morning Thunder–
The Guitar Artistry of Chris Proctor
Chris Proctor's live concert magic has now finally captured on DVD. Morning Thunder is the latest release in Stefan Grossman's Guitar Workshop Guitar Artistry DVD series. Fifteen of Chris's most popular solo pieces have been captured on film and paired with 15 interview segments in which Chris talks about his music and its development, his approach to composition and arranging, his unorthodox techniques and gear, and his favorite 6 and 12-string guitars. It's fantastic concert footage and a unique look at the mind, the technique and the equipment behind his sparkling solo career.
Wood and Steel, in its Spring 2011 issue, says this about Chris's new video: "Proctor has always been an intrepid guitar explorer, and his expansive approach to guitar composition and playing is likely to leave your head percolating with fresh ideas to apply to your own fretboard excursions… any guitar lover is bound to come away inspired to dig deeper into their own personal musical inspirations and use them to create something fresh. If only we all had Proctor's spidery reach on the fretboard."
Minor 7th, the online magazine for the world of instrumental guitar, has this to say in its July/August edition: "Any consideration of the giants of fingerstyle guitar has to include Chris Proctor. He"s been widely known since the early 1980s, when he won the Winfield fingerstyle championship and released his first album, "Runoff." That record revealed Proctor's musical debt to Leo Kottke, but also introduced listeners to a lighter touch and compositional interests that set Proctor apart from any narrow set of influences. Since then, he's toured widely, released many albums and instructional videos, and worked as a clinician for Taylor guitars. He begins with "Tap Room," which, true to its title, incorporates tapping, but also a well-crafted melody and harmonics, played over chords that recall "Hit the Road, Jack." "Hot Spot" and "Ladybug Stomp" are jazzy pieces that integrate bass and treble lines in an effective call-and-response fashion. Proctor uses an EBow in several pieces, as in "Ozymandias," a lyrical piece that's one of the best originals in the set. On the moody "Interstate," he uses the EBow to best effect, skillfully crossing several strings while using it. Non-originals include the Moody Blues classic, "Nights in White Satin," two Carolan pieces (performed as a medley titled "Bach to Ireland"), Leo Kottke's "Revisiting the Sailor's Grave," John Fahey's "The Last Steam Engine Train," and two Scots jigs, learned from the group Silly Wizard.. Throughout, Proctor's guitars are amplified, a departure from the performances on many other Guitar Artistry DVDs. In interview segments, the guitarist discusses his musical growth, use of alternate tunings, and his Taylor signature guitar. This DVD presents a good overview of Proctor's originals as well as highlighting his interpretive powers."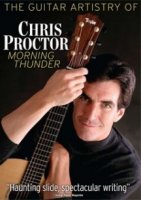 An Excerpt: The interview and performance of
"Gecko Drive"from his new Guitar Artistry DVD
Buy Chris's new DVD at Stefan Grossman's Vestapol website.
Wholesale distribution will be through Mel Bay Publications, and in June, Rounder will officially release the DVD and make it available from Universal Music Distribution.